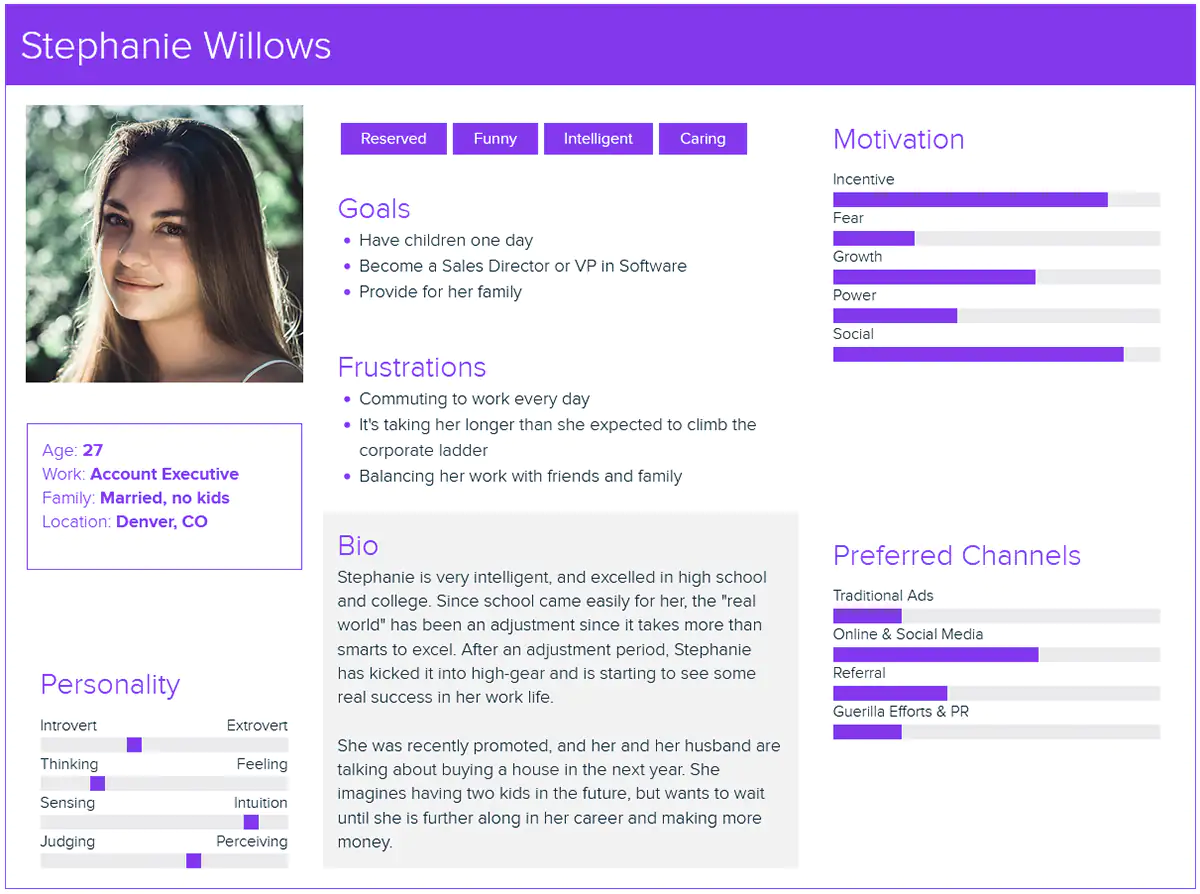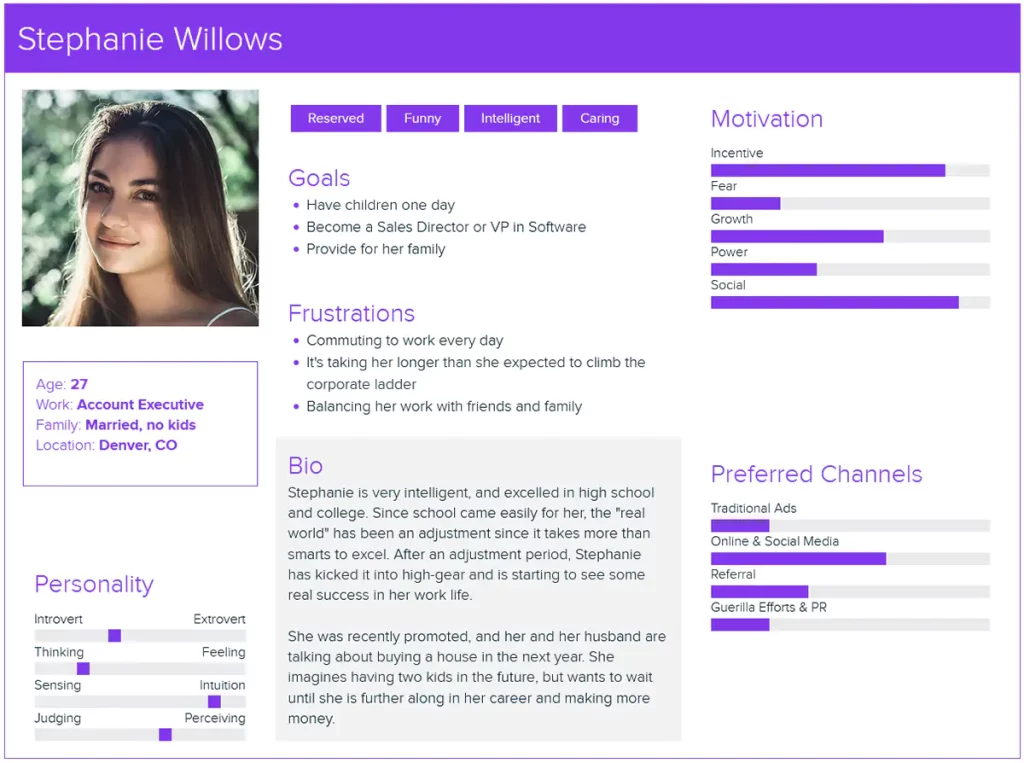 Every successful business owner knows it's important to understand the type of customers who engage with their products and services. What many fail to realize is this should also extend to their business website's users.
By understanding their needs, preferences, and pain points, you can tailor your digital presence to more effectively meet their desires, ultimately improving your site's performance. One way to achieve this deeper understanding is through the development of user personas.
What are User Personas?
User personas are fictional character profiles that represent different segments of your target audience. They are grounded in real-life data and research, providing valuable insights that can help shape your website's user experience (UX) design. Creating detailed user personas for your business will enable you to anticipate users' needs and design a website that is both engaging and accessible.
In this guide, we will delve into the step-by-step process of creating user personas, the benefits they offer to your business, and how to apply this information to elevate your website's UX design strategy.
Get Your Free SEO Audit Now
Enter your homepage to get a free report in about 30 seconds.
Step 1: Conduct User Research
To develop accurate user personas, the first step is to collect data on your website's existing and/or potential visitors. Research techniques can vary based on your target audience, but generally include both qualitative (quality) and quantitative (quantity) methods. Here are some proven research methods to consider:
1. Surveys and Questionnaires: Web-based surveys or interviews with current and potential users can provide valuable feedback about their needs, preferences, and experiences.
2. Site Analytics: Use tools such as Google Analytics or other web analytics software to gather insights into user behavior, geographical location, age, gender, devices they use, and more.
3. Social Media Analysis: Evaluate your followers and their interactions with your content. Social media platforms frequently offer additional audience insights that can be beneficial, as well.
4. Market Research: Investigate your industry's trends, competitors, and established buyer personas created by other businesses operating in the same field.
Step 2: Analyze Data and Identify Patterns
Upon completing the research phase, you will have collected a lot of data about your website users. The next step is to analyze this information by looking for patterns, trends, and shared traits that will help you group them into distinct categories or "personas".
List out the key data points and begin to identify common themes and user behavior patterns.
Step 3: Define User Persona Characteristics
Now that you have identified the patterns and trends within your user base it's time to start building your personas. An effective persona should include the following characteristics:
Demographics: Age, gender, location, and any other relevant demographic information.
Profession and Educational Background: Work experience, job titles, industries, and level of education.
Goals and Motivations: What users want to achieve by using your website or product, what drives their behavior and decision-making.
Frustrations and Pain Points: Identify the challenges that users face in their day-to-day life.
Preferred Communication Channels: How they prefer to communicate, whether through email, social media, phone, or in-person.
Name and Image: Give your persona a name and a representative image to humanize them and improve relatability.
Remember, each persona should be unique and accurately represent a specific segment of your target audience. Ideally, create between 3 to 5 distinct personas, depending on the complexity of your user base.
Step 4: Document Your Personas
Consolidate the information gathered in the previous step and create a comprehensive document or visual collage for each persona. Include all relevant characteristics, user scenarios, driving forces, and behavioral patterns. This document will serve as a reference tool when designing your website, and it should be shared with all team members involved in the project.
This document should also be shared with anyone involved with the marketing side of your business. Content writers, for example, can tailor their writing to resonate with the specific personas.
Step 5: Apply Personas to Your UX Design Strategy
At this stage, you'll have a set of well-defined personas based on real-life data and insights. The final step is to incorporate these personas into the decision-making process of your UX design strategy. Align your user personas with your website's features and functionalities, aiming to meet the needs and expectations of each persona as closely as possible.
Key areas to consider include:
Site Navigation and Structure: Ensure that your website is designed in a user-friendly manner, allowing visitors to easily find information and achieve their goals.
Content and Messaging: Craft your website's content to resonate with your user personas, ensuring your messaging effectively addresses their needs, motivations, and pain points.
Aesthetics and Branding: Visual elements such as color schemes, typography, and imagery can significantly impact user perception and engagement. Choose elements that appeal to your personas and promote a pleasant user experience.
Accessibility: Make sure your website is accessible to visitors with disabilities, as well as those utilizing various devices and internet speeds.
Summary
Creating user personas is a powerful technique to deeply understand your target audience and design your website to cater to their needs. By following the step-by-step guide, you can develop comprehensive and accurate user personas, leading to a more effective and engaging website.
Apply these personas throughout your UX design process to ensure your site is tailored to your visitors, ultimately improving your website's success and the overall satisfaction of your customers.